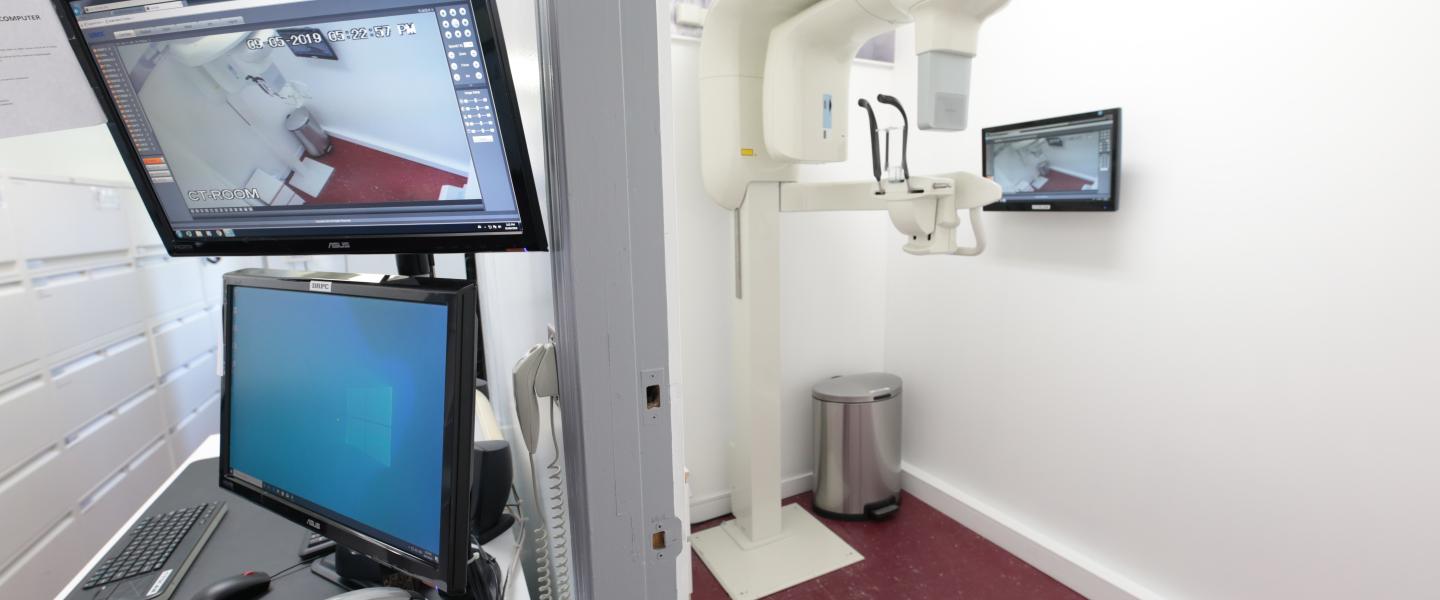 Medical and Dental Services
Dental Clinic
The VAHS Dental Clinic is in its 13th year of operation. With the support of administrative staff and a full time dentist, services are provided by volunteer dentists, hygienists, assistants, and students. Our Dental Clinic offers preventative and urgent services to patients with little or no dental coverage; it is the lowest barrier option to address basic dental needs for people in the Lower Mainland.
Support our work
We are grateful for the generosity of our volunteers, students, donors, and community members who make our operations possible.
We are always looking for volunteers for all positions within our Clinic. For more information, please be in touch via the contact information on this page.
To make a donation to the Dental Clinic at large, please click the donate button on the right-hand side of this page, or click here to donate through Canada Helps. This is not for dental treatment.

Service changes due to COVID-19
Please call or email the office for pre-screening. We will contact you to provide phone support or a potential appointment.

Current operating hours
Main Dental Clinic
Monday to Friday from 9:00 AM-4:00 PM
+ 1 Saturday per month

We halt the daily intake once the maximum patient capacity has been reached. We follow provincial COVID-19 protocols and are performing pre-screenings over the phone.
Appointment only (no walk-ins). Please call or email the office to confirm the times.

Indigenous Early Years (IEY) Satellite Dental Clinic 
By appointment only. Please contact the office.

Treatments offered
Screenings (exams, cancer screening, prescriptions, X-Rays, CT Scan, Cephalometric - coming soon)

Hygiene (cleanings, oral hygiene instructions)

Cosmetic treatments (teeth whitening)

Basic treatments (fillings, sealants)

Endodontic treatments (simple and complex root canals)

Simple/surgical extractions

Major restorative treatments (Inlays and Onlays, crowns, bridges, veneers) 

Straumann Implants (for selective cases)

Full and partial dentures

Nightguards

Gas and IV sedation (for selective cases)

Limited gum surgeries
Treatments that we do not offer
Full sedation

Orthodontic treatments

Major gum surgeries
Root canals and surgical treatments
Not all root canal and surgical treatments are the same, therefore special considerations will be given to extremely complex extractions, re-treatment of root canals, highly complex multiple root canals, and apical chronic tooth infections.

General patient intake policy
Everybody is welcome.

Patients with dental coverage are asked to bring their IDs. No exceptions are granted. Examples of IDs: care card number, Indigenous status card, parole (ID card and officer's contact information), interim federal health program (IFHP-UCI #), healthy kids' program, dental insurance, etc.

For patients without dental coverage, our Internal Fee Guide will be suggested at the time of the screening.

Any patient's needs will be evaluated based on the Dental Clinic's daily capacity and budgetary limitations.

We reserve the right to deny any treatment at any time. We practice Zero Tolerance to inappropriate behavior towards staff/volunteers and other patients.

We reserve the right to screen patients and prioritize treatment.  

We do not grant any type of preference to specific patients or treatments.  We are here to help and we help everybody as much as we can in the same way. 

Booking an appointment
Please call or email to book an appointment and provide the following information:
Full legal name

Care card and/or status card information, private insurance (mandatory for patients with this coverage)

Phone number

Email address

Preferred contact method
Our office has an automated confirmation system; every patient will need to confirm their appointment either by Phone, Email or Text (no exceptions). If a confirmation is not given, the office will consider this as a potential no-show.  We will cancel the appointment. 

Cancelling an appointment
A 48-hour notice is needed for cancelling or rescheduling appointments. A no-show or last-minute cancellation will have a $50 CAD administrative charge on the next appointment. 
If two consecutive "no-shows" are recorded in our system, our office reserves the right to deny further appointments and to remove the patient from the waiting list. A formal dismissal letter will be sent either by mail or email to confirm this action.  This letter will follow the guidelines of local regulatory bodies. 

Waiting list
Currently, our office is booking 2-3 months in advance. We understand that some treatments might be urgent. Due to operational limitations and the high demands for services, we may not be able to fulfill all requests in a timely manner.

Payment information
For full financial information, please contact our front desk.
Methods of payment include:
Debit/Credit Card (Visa, Amex, MasterCard)

Cash

Cheques issued to Vancouver Aboriginal Health Society (no personal cheques) 
(Memo: Dental Clinic payment)

Online payments: Include Dental Clinic payment in the memo section. Please save the email confirmation as proof of payment.
Fee schedule for individuals under Income Assistance, Status, Refugees, Parole:
We bill each government program without any exceptions.

It is the patient's responsibility to bring their IDs and any coverage information. We will not accept any patient without this information.

It is the patient's responsibility to cover any outstanding cost for treatments that are not covered under their respective programs.

Our office reserves the right to deny treatment beyond our office capacity and budgetary limitations.

Office forms
Contact us
Main Dental Clinic 
455 East Hastings Street
Vancouver, BC V6A 1P5
Indigenous Early Years (IEY) Satellite Dental Clinic 
717 Princess Ave
Vancouver, BC V6A 3E4